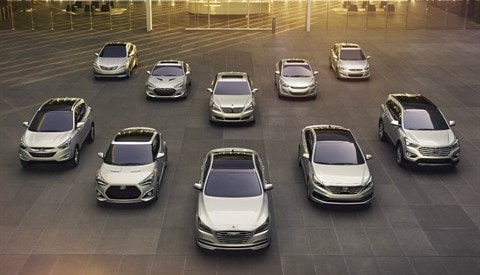 Shopping for a new vehicle includes a number of decisions. Along with figuring out which vehicle type works best for you, you have to decide whether you want to lease it or finance it. Whether it's better to lease or finance a vehicle is an age-old question, but our Hyundai finance center serving Quakertown is here to help! Below, our finance experts have highlighted the differences between leasing and financing to help you figure out which option is best.
There are many advantages to each option, but the one that's best for you depends a lot on your individual situation. Many shoppers are under the false impression high-mileage driving knocks leasing off the table as an option. Based on your lifestyle and driving habits, the staff at our finance department can help you figure out whether you should lease or finance your next vehicle with us. Before you visit Lehigh Valley Hyundai, be sure to check out our current Hyundai lease specials near Allentown.
Benefits of Leasing a Hyundai
Lower monthly payments
Drive a better car for less
Lower repair costs, as the vehicle is under warranty
Can transition to a new car every two to three years
Lower sales tax
Benefits of Buying a Hyundai
Can modify the car
More economical in the long run
No excess mileage penalty
More flexibility, as you can sell the car whenever you want
Leasing makes it easier to get a car for less money. With leasing, you only pay for the value of the car that you drive, rather than buying and owning the entire worth of the car. On the other hand, purchasing a vehicle means that you can do whatever you want to the vehicle.
Leasing vs Buying a New Hyundai Near Quakertown
The friendly and knowledgeable staff at our finance department can take a look at your budget and lifestyle to determine which option suits you best. Our finance staff won't stop negotiating with local institutions until we receive the best car loan or lease rates possible for you. Our goal is for you to drive off of our lot with a smile on your face-whether you're behind the wheel of your brand new Hyundai, or Hyundai lease!
For more information on leasing vs financing at our dealership, contact Lehigh Valley Hyundai at (855) 974-1445. We look forward to finding you the lease terms or financing plan that works best!