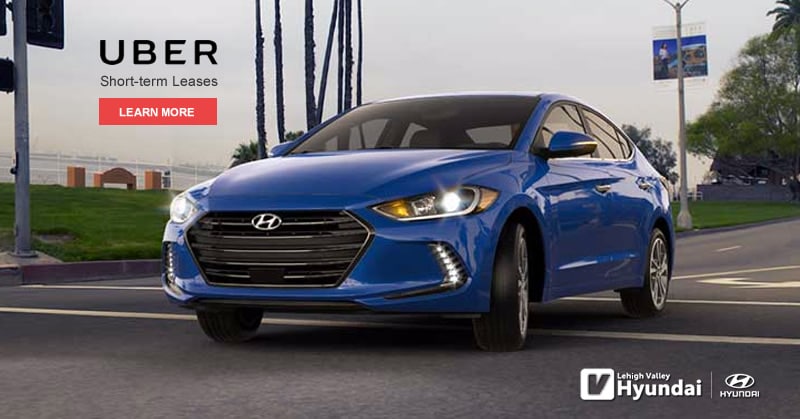 At Lehigh Valley Hyundai, we're excited to offer our customers a great opportunity to get behind the wheel of a brand new Hyundai and make some extra cash! All of it is possible with Uber!
In its relentless pursuit for growth, Uber is looking for more drivers however; many of those interested in becoming an Uber driver are lacking the vehicle they need to do so. That's all about to change. Beginning in July, Uber will be partnering with dealerships, like our Hyundai dealership in Pennsylvania, and Xchange Leasing, LLC. to offer short-terms leases to customers who are interested in driving for Uber and are in need of a car.
Get Behind the Wheel of a Hyundai and Make Cash in Pennsylvania
The process is pretty simple; pay a $250 deposit and make weekly payments to Uber over the course of the three-year lease life. Payments are automatically deducted from your Uber earnings. At the end of the three years, Uber keeps the $250 deposit to release you from the lease or you can choose to keep the vehicle. If you choose to stick with the vehicle, you'll be responsible for paying the residual value of the car to Uber.
Our Pennsylvania Hyundai dealer is delighted to be a part of this awesome opportunity, making it easier for customers to get behind the wheel of their favorite Hyundai model.
To learn more about our partnership with Uber, contact Lehigh Valley Hyundai at (855) 974-1445. Check out our wide selection of new Hyundai models by browsing our inventory below!